Attendance
School Attendance & Punctuality
At Moss Road, we believe excellent attendance and punctuality are vital in helping our children achieve their best. Children should be at school, on time and ready to learn, every day the school is open, unless the reason for absence is unavoidable. All research shows that students who attend well achieve well.
EVERY SCHOOL DAY COUNTS
Every single day a child is absent from school equates to a day of lost learning. For some parents, 90% may seem like an acceptable level of attendance, but the reality is that 90% attendance means that your child will miss half a school day each week or 20 days of school during the school year – that is 4 school weeks! Attendance percentages can be misleading so please see the table below which indicates how the number of days absent relates to percentages.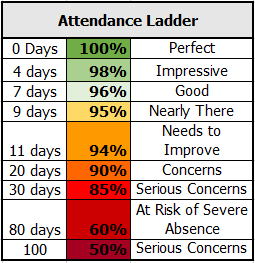 Our Trust has produced this informative video to about the importance of attending school regularly.
Parents can expect the following from Moss Road :
Regular, efficient and accurate recording of attendance
Support from Littlemoor to improve attendance and deal with any underlying issues.
Early contact from the school when a child fails to attend the school without reason; this will usually involve a home visit on the 1st or 2nd day of absence
A prompt response to problems notified to us
The celebration and rewarding of good and improving attendance through competitions, certificates, prizes and events
Support when there is a problem of long term illness
Involvement with Doncaster Children's' Services when appropriate
Follow up procedures from the school's attendance team.
We expect the following from parents with regards to attendance and punctuality:
To ensure all children attend the school regularly, on time and to be aware of their legal responsibilities
To ensure they contact the school every day their child is unable to attend, using the school's telephone number 01302 700287
To ensure that their child is appropriately prepared for the day
To contact the school in confidence whenever they have a problem concerning attendance or punctuality
To be fully aware of the Y1 and Y2 test period and to support attendance during these periods.
Not to arrange a holiday in term time
To respond to the appropriate person regarding letters of concern immediately
To make every effort to arrange dental and medical appointments out of the school day
That telephone contact numbers are available and if changed, the school is informed immediately.